Discover and share the values of surfing.
Loïc and Céline have the pleasure to welcome you to the Mahalo Surf School. Located on the Vendée coast of the Atlantic ocean, it is only 500 meters away from the beach.
Their main objective is to share and spread their passion in a friendly and relaxed mood.
At Mahalo Surf School you can take Surf, Bodyboard or Stand Up Paddle lessons. You can also rent all the equipment you need all year round.



MAHALO SURF SCHOOL
SAINT GILLES CROIX DE VIE
We have a huge choice of boards and wetsuits from the best actual brands which can answer all your needs (level and size).
Foam and hard surfboards, bodyboards, stand up paddle (foam, hard or inflatable) and winter/summer wetsuits.
32 ° F = 0° C
Une différence de température d'1 °F équivaut à une différence de température de 0,556 °C.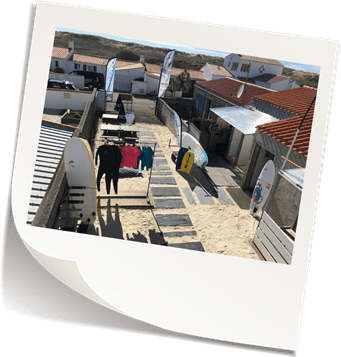 MAHALO SURF SCHOOL
51 Rue de la Barre, 85800 Saint-Gilles-Croix-de-Vie, France
Phone : 06 58 95 42 53
Opening hours  school holidays: 9am -7pm every day Outside French school holidays: 9:30am to 12 and 2 -6 pm from Wednesday to Sunday